Love Thursday: Grandparents
Last Thursday, my mom took Sass for their weekly "date." This date usually involves a trip to the "snack store" and then pretty much anything Sass wants to do for a few hours at Grandma's. Sass soaks up the individual attention, and Grandma has only one rule -- "What happens at Grandma's, stays at Grandma's." (Sass is one of four, equally indulged grandchildren. Party Girl is just now starting to catch on that there may be something fun happening when the two of them leave together.)

Last week, I called to check on them. My mom laughed into the phone and said that there was perhaps no child on Earth more pampered than my daughter at that moment. She was sitting in my mom's enormous grandbaby-bathing sink, luxuriously soaking in warm bubbles. She was watching a Disney movie on the TV in the kitchen, and my mom was brushing her hair. To top it off, Pop (my stepdad) was feeding her raspberry sherbet. That's spa-level treatment right there, you know.

My mom said that she hoped someday her grandchildren would sit with their own grandkids and remember moments like that one.
So for
Love Thursday
this week, I'm posting a picture of her father -- my grandfather -- with me. In this picture, it's my birthday and I'm pretty close to the age that Sass is now.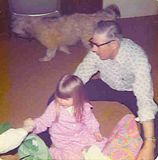 My grandpa was big and strong, but also funny and soft. He was the kind of grandpa that got down and played with you, turned the hose on you after watering his garden in the summertime, who told you jokes that made you laugh as a child and roll your eyes as a teenager. He loved it when we'd all tumble into bed with him in the morning after sleeping over, climbing all over him and snuggling in. He was a good man -- loyal, kind, loving even when you are being unlovable, fair, funny, and honest.

I tell my girls stories about him, and when I'm a grandma I'll take the lessons I've learned from him, my grandmothers, and my mom and pass them on to my own grandchildren.

I'm pretty sure Sass loves her grandma too.

(P.S. This picture was taken this week on my mom's birthday. Happy Birthday Mom!)