Love Thursday: Love is All Around
Every spring and summer, the robins come to a euc wreath on my mom's front porch and build a nest. They're safe there from the hawks and crows, it's dry and cozy. It's also where everyone enters their house, however. So every time you enter or leave, your greeting with a loud, sudden fluttering of wings as the mama bird retreats. She sputters at you from her perch while you walk to your car, then she cruises back in to take care of her babies. It's startling sometimes (as I'm sure it must be to her), but it is so worth it when the babies come. They're right there, at eye level, and if you stand very quietly in the doorway, you can watch her feed them.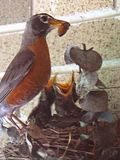 Love really is all around. Sometimes as close as your own front porch.